Purchase Tickets
$50 Current Member Price:
$60 Future Member Price:
Event Details:
LOCATION:
The Driskill
Capitol Ballroom

SCHEDULE:

Registration & Networking: 11:30 a.m.
Program Begins: 12:00 p.m.
VALET: $20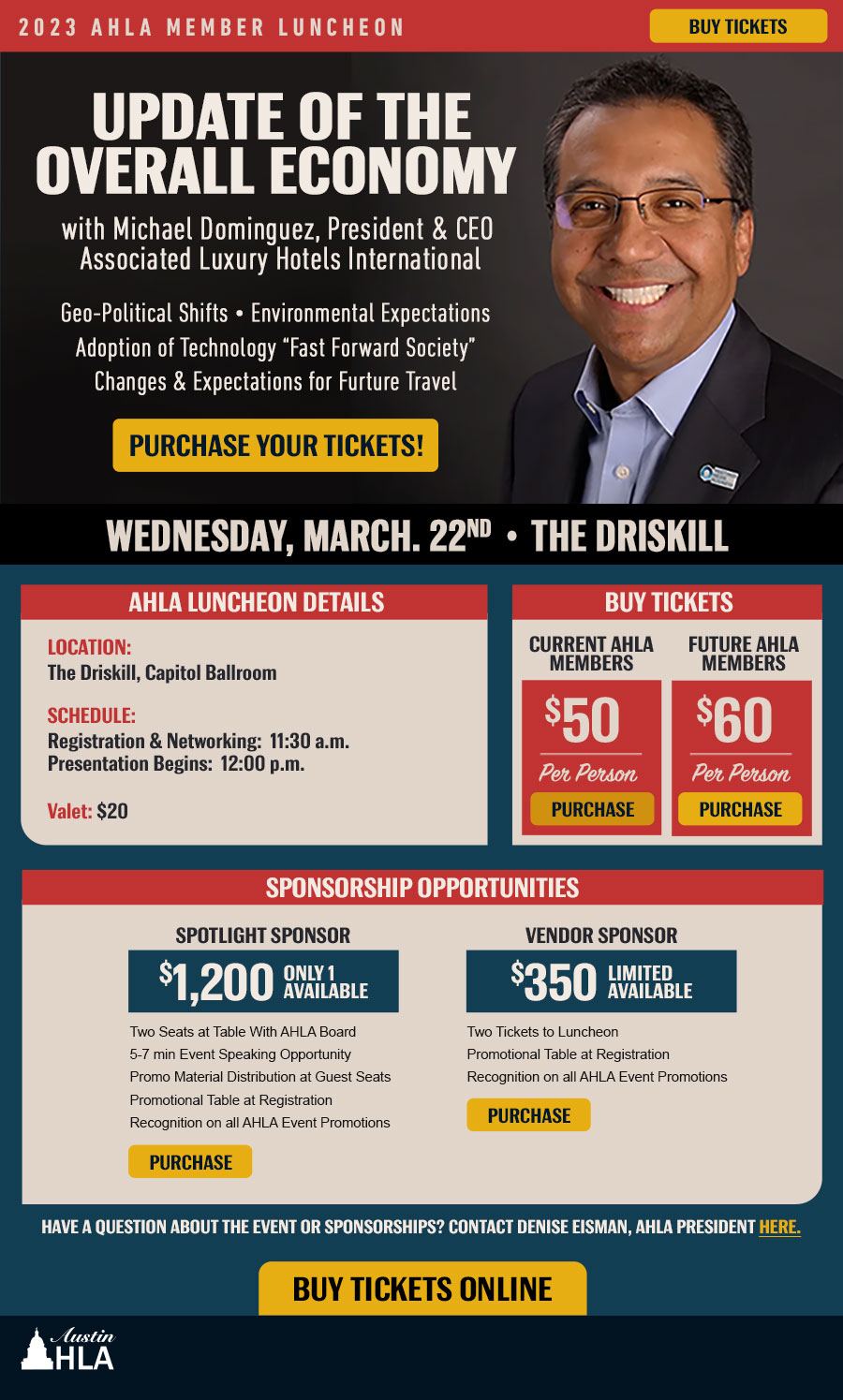 Michael Dominguez, President & CEO | Associated Luxury Hotels International (ALHI)
Michael Dominguez serves as the President & CEO for Associated Luxury Hotels International (ALHI).   ALHI is the largest Global Sales Organization with a team of nearly 80 professionals located among 26 offices across North America and Europe. Prior to joining ALHI, Michael served in executive sales leadership roles with MGM Resorts International as Chief Sales Officer and many brand and independent branded companies.
Michael is an-award winning hospitality industry veteran. He has received multiple honors for his leadership and influence and has been recognized as a change agent by his peers. He's also been a speaker with Fortune 100 Companies on topics ranging from disruption to the economy and a passion around Leadership and was an invited speaker at SXSW in 2018.
Michael's other industry leadership involvement includes board positions with: 
US Travel Association (Executive Committee & Officer) – Current
Meetings Mean Business Coalition (Executive Committee) – Current
Co-Chair EIC's Taskforce on COVID Recovery
AMCI's Board of Directors – Current
ASAE's Board of Directors
FICP's Influence Committee
APEX Standards Committee
GBTA Foundation Board
HSMAI Foundation Board
Co-Chair APEX Room Piracy Taskforce
Michael has been recognized in the industry for numerous honors including:
com's "50 Most Influential Hispanics in the US".
MPI's 50th Anniversary – "50 Most Influential"
ECPAT USA, 2022 Freedom Award
Induction in the EIC's Hall of Leaders in 2019
HSMAI Lifetime Achievement Award in Sales 2021
MeetingsNet – Changemakers 2022 & 2014
Connect Magazine – "15 over 50" 2021
BizBash 500: Must Know Event Pros of 2018, 2019, 2020 & 2021
M&C Magazine's Top 25 Influencer of 2020
Successful Meetings Top 25 Most Influential People in the Meetings Industry 2013 -2015
Smart Meetings 2015 Smartest Industry Leaders
HSMAI's 2014 Top Minds in Sales and Marketing
Meetings Focus 2014 Trendsetter
Sponsorship Opportunities
Two Seats at Table With AHLA Board
5-7 min Event Speaking Opportunity
Promo Material Distribution at Guest Seats
Promotional Table at Registration
Recognition on all AHLA Event Promotions
Two Tickets to Luncheon
Promotional Table at Registration
Recognition on all AHLA Event Promotions