Purchase Individual Tickets or a Table for 6:
$50 Current Member Price:
$60 Future Member Price:
Event Details:
LOCATION:
Austin Marriott Downtown
304 E, Cesar Chavez St.

SCHEDULE:

Registration & Networking: 11:15 a.m.
Program Begins: 12:00 p.m.
PARKING:
TBA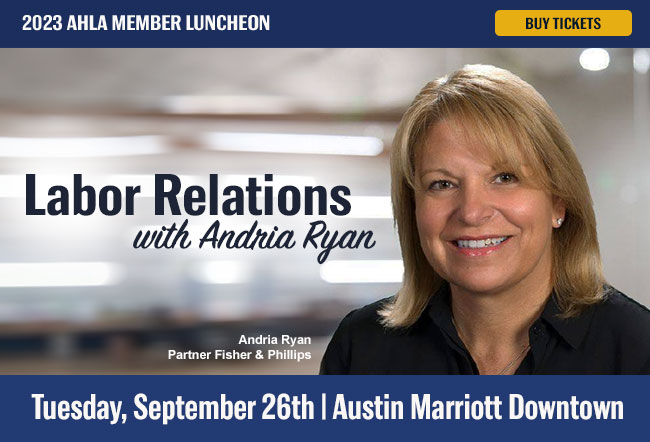 Featured Speaker
Andria Ryan
Partner Fisher & Phillips

Andria Ryan is a partner in the Atlanta office and serves as co-chair of the Hospitality Industry Group. She represents employers in virtually every area of employment and labor law and received the Anthony G. Marshall Hospitality Award for her pioneering and lasting contribution to the field of hospitality law.
Andria represents employers throughout the United Stated in defending employment discrimination and harassment cases as well as handling traditional labor matters such as unfair labor practices and union campaigns.
She spends much of her time counseling employers in day-to-day employment and labor decisions and educating employers about prevention and practical solutions to workplace problems.
She is a frequent speaker to industry groups and human resources professionals on such topics as avoiding harassment in the workplace, maintaining a union free workplace, avoiding discrimination claims, proper interviewing and effective discipline and discharge techniques.
Andria has also received many accolades from hotel association throughout the U.S.
Sponsorship Opportunities Available