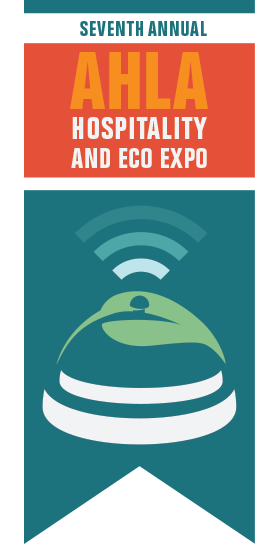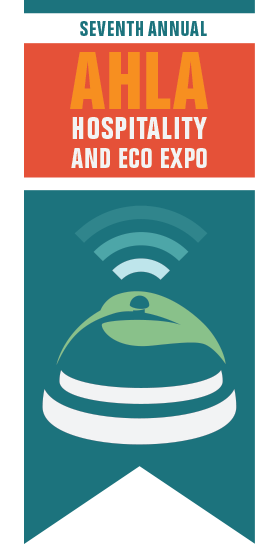 WHEN: September 9, 2015




WHERE: JW MARRIOTT | 110 E. 2nd Street | Austin, TX 78701




TIME: 2:00 – 5:00 PM
WHY EXPO WITH US?
The AHLA Hospitality and Eco Expo is the one place to learn the latest strategies, observe the newest products and services, and make the connections that deliver incredible results. Many exhibitors create partnerships with both attendees and other exhibitors, giving them two audiences while displaying the newest trends offered to the Hotel Industry.
EXHIBITOR BENEFITS:

• HIGHLY TARGETED AUDIENCE
• ACCESS TO KEY DECISION MAKERS
• BUILD YOUR BRAND AND INCREASE AWARENESS OF YOUR PRODUCTS AND SERVICES
• INFLUENCE AND UNDERSTAND THE HOTEL INDUSTRY'S NEEDS, PERCEPTIONS, AND TASTES
• ONE ON ONE ROUND TABLE OPPORTUNITY WITH HOTEL GENERAL MANAGERS
• POST EVENT ADVERTISING AT MANAGERS RECEPTION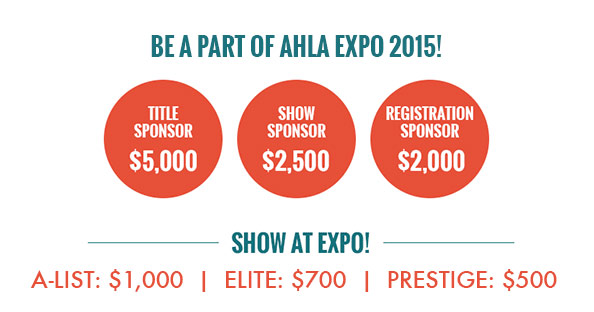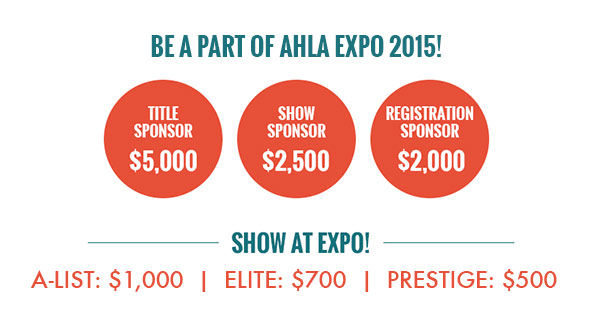 Please use the form below and we will be contact you very soon.
 HOTELS INVITED
Adams House Bed & Breakfast
Aloft Austin at The Domain
Americas Best Value Inn
AT&T Executive Education and Conference Center
Austin Marriott South
Austin Motel
Austin Sheraton Hotel at the Capitol
Austin Suites North
Baymont Inn & Suites South
Baymont Inn Highland Mall
Best Western Atrium North
Best Western Plus Austin City Hotel
Brava House
Candlewood Suites Austin Arboretum Northwest
Candlewood Suites South
Carriage House Inn
Carrington's Bluff Bed & Breakfast
Casulo Hotel
Comfort Suites Airport
Comfort Suites NW Lakeline
Comfort Suites South
Country Inn & Suites Austin North
Courtyard by Marriott Austin Airport
Courtyard by Marriott Austin Arboretum
Courtyard by Marriott Austin North
Courtyard by Marriott South
Courtyard by Marriott University Area
Courtyard/Residence Inn Austin Downtown
Crestwood Suites Austin
Crossland Economy Studios
Crowne Plaza Austin Hotel
Days Inn Austin Crossroads (North)
Days Inn South
Days Inn University
DoubleTree by Hilton Austin
DoubleTree By Hilton Austin University
DoubleTree Suites by Hilton
Driskill Hotel
Drury Inn & Suites Austin North
EconoLodge
Embassy Suites Arboretum
Embassy Suites Austin Central
Embassy Suites Austin Downtown-Town Lake
Extended Stay America Arboretum
Extended Stay America Austin NW
Extended Stay America Downtown 6th Street
Extended Stay America North Central
Extended Stay America NW
Extended Stay America SW Mopac
Extended Stay Austin Town Lake
Extended Stay Deluxe North
Fairfield Inn & Suites Austin North
Fairfield Inn & Suites Austin Northwest/Research Blvd.
Fairfield Inn & Suites Northwest/Arboretum
Fairfield Inn & Suites University Area
Fairfield Inn South
Four Seasons Hotel Austin
Habitat Suites Hotel
Hampton Inn & Suites at The University of Texas/Capitol
Hampton Inn & Suites Austin – Downtown
Hampton Inn & Suites Austin Airport
Hampton Inn Austin North
Hampton Inn Austin Oak Hill
Hampton Inn Austin South
Hampton Inn NW
Heart Of Texas Motel
Hilton Austin
Hilton Austin Airport
Hilton Garden Inn Austin Downtown/Convention Center
Hilton Garden Inn Austin NW Arboretum
Hilton Garden Inn North Austin
Holiday Inn Austin Airport
Holiday Inn Austin Arboretum
Holiday Inn Austin Midtown
Holiday Inn Express & Suites Arboretum-Domain
Holiday Inn Express & Suites NW
Holiday Inn Express Austin Airport
Holiday Inn Express Austin N. Central
Holiday Inn Express North
Holiday Inn Express Southwest
Holiday Inn Town Lake
Home2 Suites by Hilton-Austin/Cedar Park
Homestead Studio Suites NW
Homewood Suites NW
Homewood Suites South
Hotel Ella
Hotel Granduca
Hotel Saint Cecilia
Hotel San Jose
Howard Johnson
Hyatt House Austin Arboretum
Hyatt Place Arboretum
Hyatt Place Austin Downtown
Hyatt Place Austin North Central
Hyatt Regency Austin
Inn at Pearl Street Bed & Breakfast
Inn At River Oaks Farm Bed & Breakfast
InterContinental Stephen F. Austin Hotel
JW Marriott Austin
Kimber Modern
La Quinta Inn & Suites Airport
La Quinta Inn & Suites Mopac North
La Quinta Inn & Suites Round Rock, South
La Quinta Inn Austin North
La Quinta Inn Capitol
La Quinta Inn Highland Mall
La Quinta Inn IH 35S/Ben White
La Quinta Inn Oltorf
La Quinta Inn SW Mopac
La Villa Vista Resort
Lake Austin Spa Resort
Lakeway Resort and Spa
Lone Star Court
Lone Star Inn
Microtel Inn & Suites Austin Airport
Montclaire House
Motel 6 Austin Central
Motel 6 Austin North
Motel 6 Austin South
Motel 6 Austin South Central
Mountain Star Lodge
Omni Austin Hotel Downtown
Omni Austin Hotel Southpark
Omni Barton Creek Resort & Spa
Orangewood Inn & Suites North
Orangewood Suites Hotel
Park Lane Guest House
Quality Inn North Austin
Radisson Hotel & Suites Austin-Downtown
Ramada Austin – North Central
Ranch House Inn
Red Roof Inn North
Red Roof Inn South
Renaissance Austin Hotel
Residence Inn Austin – University Area
Residence Inn North
Residence Inn Northwest
Residence Inn South
Robin's Nest Bed & Breakfast
Rodeway Inn University
Serenity at Lake Travis
Sleep Inn & Suites
Springhill Suites North
Springhill Suites NW Arboretum
Springhill Suites South
St. Elmo Motel
Staybridge Suites Arboretum
Staybridge Suites Austin Northwest
Staybridge Suites Hotel- Austin Airport
Strickland Arms Bed & Breakfast
Studio 6 Austin Midtown
Studio 6 Northwest
Suburban Extended Stay
Summit House Bed & Breakfast
Super 8
Super 8 Austin Airport North
Super 8 Austin Airport South
Super 8 Central
Super 8 Hotel Austin North
The Fairview
The Quarters at Hardin House
TownePlace Suites by Marriott
Travaasa Austin
Vintage Villas
W Austin
Walnut Forest Motel
Westin Austin at the Domain
Westin Austin Downtown
Woodburn House Bed & Breakfast
Wyndham Garden Hotel