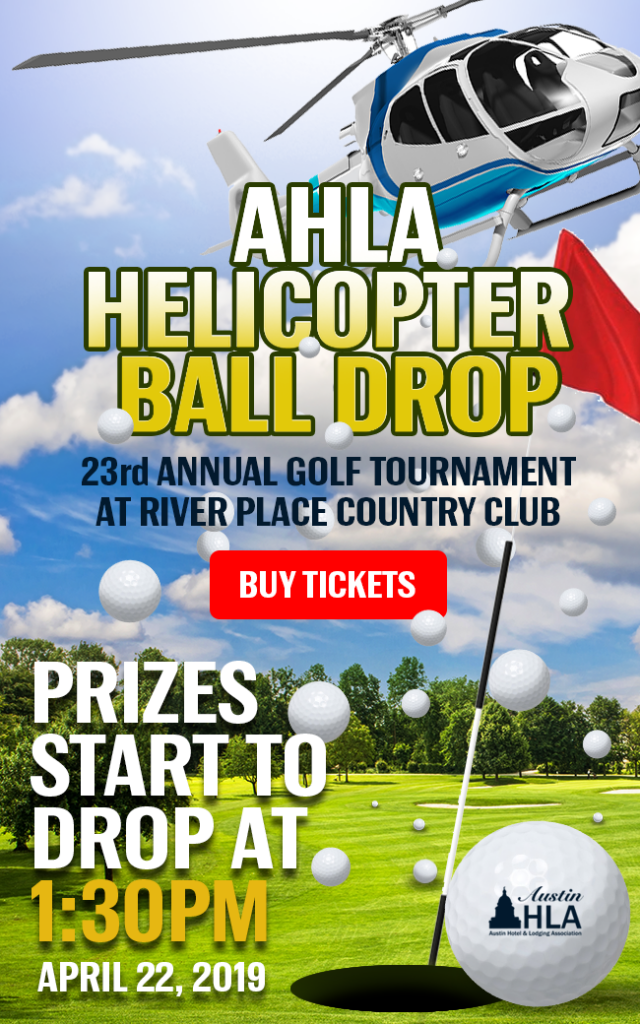 Helicopter Golf Ball Drop Contest Rules
The Helicopter Golf Ball Drop is a fundraiser presented for the benefit of the Austin Community College Endowment Fund, via the Austin Hotel and Lodging Association. For an entry fee of $10 for 1 ball ticket, $25 for 3 ball tickets, $100 for 12 ball tickets, each participant will be entered into the Golf Ball Drop to take place on Monday, April 22nd, 2019 at River Place Country Club. Participants may purchase as many ball tickets as they wish at the prices stated above, provided the number of golf balls are available. Only 300 balls will be available for purchase and sold on a first-come first-serve basis. The purchase of a ball ticket or ball tickets will assign you a randomly chosen number, which matches a ball that will be dropped from a helicopter concluding the tournament. On April 22nd, at 1:30pm all 300 golf balls will be simultaneously dropped from a helicopter over a predetermined circle on the ground. In the event that multiple balls go into the designated hole, the ball resting at the bottom of the flag will receive 1st Place Prize and the next ball will receive 2nd Place Prize. If there are no balls found in the hole, then the closest ball to the flag will win the prize. In the event there are multiple balls with the exact same measurements, closest to flag stick, these same balls will be selected at random to determine the 1st and 2nd place winners. Participants must be 18 year of age or older to enter and win. All federal, state, and local laws and regulations apply.
Helicopter Ball Drop @1:30PM
Monday – April 22, 2019
AHLA 23rd ANNUAL GOLF TOURNAMENT
at River Place Country Club
Benefiting the Austin Community College Endowment Fund
Upon the Conclusion of our Charity Golf Tournament, we will be dropping 300 golf balls onto the green from a helicopter! If your ball gets a "hole in one", you win! If no balls fall into the hole, then closest to the flag will win the Grand Prize! Raffle ball numbers are on Sale now! There are only 300 balls available!
1 RAFFLE TICKET – $10.00
3 RAFFLE TICKETS – $25.00
10 RAFFLE TICKETS – $100.00
1st Place –  $500+ Staycation and day of fun at the Domain. Includes a night stay at Archer Hotel, a $100.00 Gift Card to Kendra Scott and a $100 gift card to the new Perry's domain location.
2nd Place – $500 Credit to VIP Marina.
Get ready for Sunday Funday on the lake with your friends and family or a day of team building with your colleagues.
https://viplaketravis.com/